Who are we?
We are a group of friends that have gathered together throughout the years to bring fun events and promote community in Seattle and wherever else we may roam. We aren't a club with memberships or anything official like that.
Sometimes we put our minds to pushing an agenda, cause, or charity: but when we do, the focus is on them, not us. We are merely there to provide the shoulders for others to stand upon and hopefully have some fun while making things happen and the world a little better.
Meet Us
This isn't everyone you will see when you come out to our events, but these are some of the people helping to plan events and make things happen. If you see them out, please don't hesitate to approach them with questions or just to chat!
You can always reach out to one of our ambassadors with questions and comments. If you need help because someone is not following the XL Bears Code of Conduct, find any of these ambassadors for assistance. There will be a minimum of one at every event we host.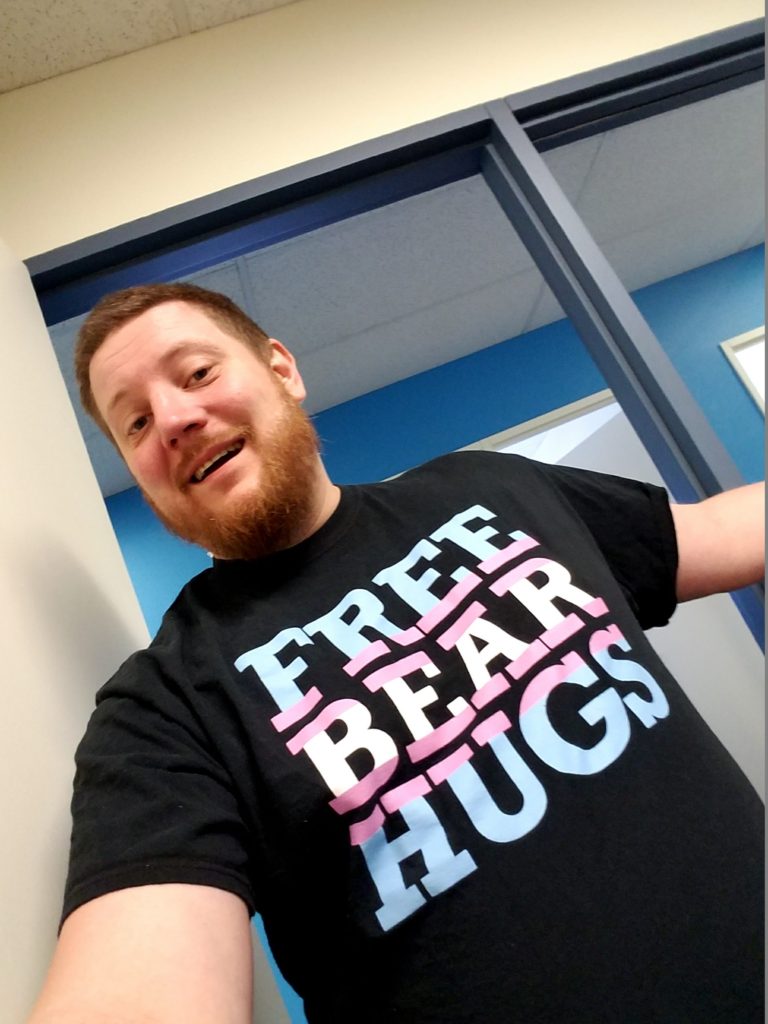 Shaun helped start XL Bears and has been actively working with the group for 6 years.
You can make small talk with him about: Dr Who, web development, languages, drag, gaming, hiking, and social justice.
He's got your back, so just ask if you need him to do anything!
Brendan Mack is a director, artist, playwright int the Seattle Fringe community who communicates through events, parties, shows, and gig nights. Alter-ego Butch Alice is a drag character and conversation in gender stereotypes that has performed with RPlace, Neighbors, Kremwerk, Queer/Bar, the Unicorn, the Crescent, ACT theater, Cafe Nordo, Copious Love Productions, Rebar, The Slate theater and pretty much of you name it she's been there. As an ambassador for XL Bears it's important to be able to point members to events clubs and shows that they may never have been exposed to before, and invite a culture of personal growth and development in XL. You are you, and I am Me, and we can be the best versions of ourselves. #Liveyourtruth
Seth may be 40 years old, but he still considers himself a cub. Geographically raised in Southern California, but genetically a New Yorker, Seth has been calling the PNW home for the past six years. When he first moved here, not knowing anyone in the area, he got involved with the XL Bears as a way to be social and have fun. In the process, he has made some amazing, lifelong friends! Seth is a huge fan of pop culture, especially movies, and is always up for a lively discussion or debate. Born from a long line of chocoholics, Seth does his best to keep the family tradition alive by enjoying ALL chocolate (except for white chocolate! That's not real chocolate – it's not even made with cocoa beans, but with cocoa butter – the by-product of producing real chocolate! But I digress…) Besides chocolate, the easiest way to Seth's heart is through good chicken strips (or fingers or nuggets or tenders, etc.) dipped in a sweet honey-BBQ sauce. One might also say that it is Seth's love for decadent food, paired with his hatred of physical activity, which makes Seth a fun-loving bear! (The fact that he's a hairy Jew probably helps as well!) His big ears make him a good listener, and he is always up for good conversation!
9/20th of my life i lived in SF and 11/20th here in Seattle. Extroverted introvert getting to know people since life is too short not to enjoy each other's company. I travel for work so you will see me here there and everywhere, but i always keep my friends close. Besides identifying as a bear, i'm also a pup. You can call me Marc or Twitch (my pup name), just not Daddy… not yet. LOL
My name is Joseph Anderson and I'm a 29-year old Bear Cub. I grew up in a small town in Mississippi but quickly escaped and had lived in New England and Atlanta. Finally settled in Seattle and happy to call it home. If you need to talk to someone I'm always willing to listen.